The veo Phased Array ultrasonic flaw detector reinforces Sonatest's reputation for innovative technician focused product development. The veo's simple controls, superior performance, advanced features and rugged enclosure deliver simplicity, capability and reliability to the technician's finger tips.
Veo Simplicity
The intuitive menu system is application and workflow driven, with set up and operation swiftly becoming second nature. Integrated Help and Wizards guide the user through scan set up whilst Optimisation Tips ensure the veo always performs at the highest level. The unique 3D ScanPlan view gives immediate visual confirmation of correct set up and ultrasound coverage, even in complex multi-probe applications.
Veo Capability
The powerful veo platform unlocks a new level of performance in a portable instrument, helping you to maximize your efficiency on-site. The Inspection Plan shows the operator in 2D and 3D where probes are positioned on the test part, simplifying the inspection setup and providing an inspection reference for reporting. All adjustments to focal laws are instantaneous, with angle resolution to 0.1° and up to 1024 focal laws without loss of performance.
Veo Reliability
Robust design and proven reliability are essential attributes in demanding NDT environments. Down time is expensive and should be minimized to ensure maximum productivity. Sonatest's reputation for rugged construction and high quality products has been earned over 50 years serving the industry. The veo is constructed to exacting standards using a rigid, shock mounted, internal chassis surrounded by an impact absorbing enclosure and sealed to IP65. Bridge and Hanger Pin inspections typically involve long ultrasonic sounds paths to detect small indications. Rising to this challenge, the Sonatest veo 16:64 is a multi-technique instrument featuring high pulser voltage, with an impressive signal-to-noise ratio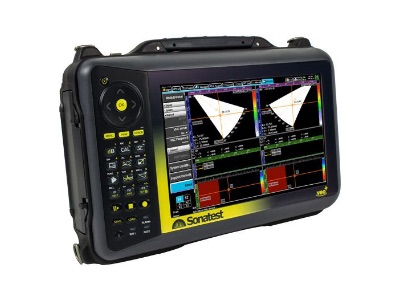 veo 16:64
veo 16:128
GET QUOTE