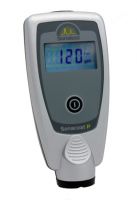 Sonacoat P leaves no damage on the surface, no scratches, no grinding required.
In the application of digital coating thickness measurement there are two field proven inspection methods; the Magnetic method and the Eddy Current method, (DIN EN ISO 2178 and 2360).
The Sonacoat P uses both these methods offering the same degree of high precision, even with the thinnest coatings, allowing measurement on steel as well as on non-ferrous metals such as aluminium. Just position the probe and selection is automatically made.
GET QUOTE